When choosing promotional items, it's important to pick products that recipients will use frequently or offer high visibility to increase recall, impressions, and positive feelings towards a brand. But, the opposite can also create an effective brand experience in a much different way...
Consumables like food, candy, drinks, and pet items last only for a moment in time - but can still establish a powerful, lingering impression of your brand. Browse our hand-picked consumables to create this paradoxical experience!
Food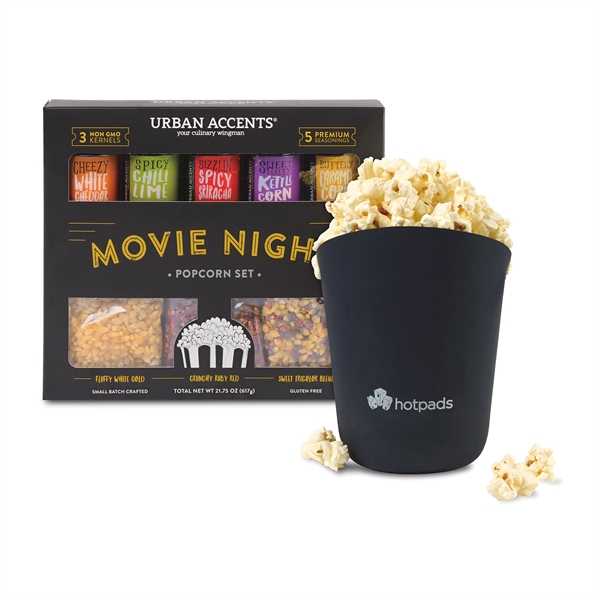 This popcorn gift set will show your appreciation with kernels and seasonings that are sure to please any craving. Each gourmet gift set includes a Pop Star Popcorn Popper, Urban Accent Assorted Popcorn Kernels and Seasonings in a movie theme gift box. Add a brand name, logo, or message for further customization!
Amazing Graze! We have curated a selection of artisan goodies and placed them in an eco-friendly gift box mailer. Select one of our purposeful coolers, backpacks, totes, drinkware, or a journal and we will kit together with this gift box of goodies for you. This featured box includes Effie's oat cakes, East Shore Dipping Pretzels with Sweet & Tangy Mustard, J&M Chocolate Chip Cookies, and Hammond's Caramel Popcorn.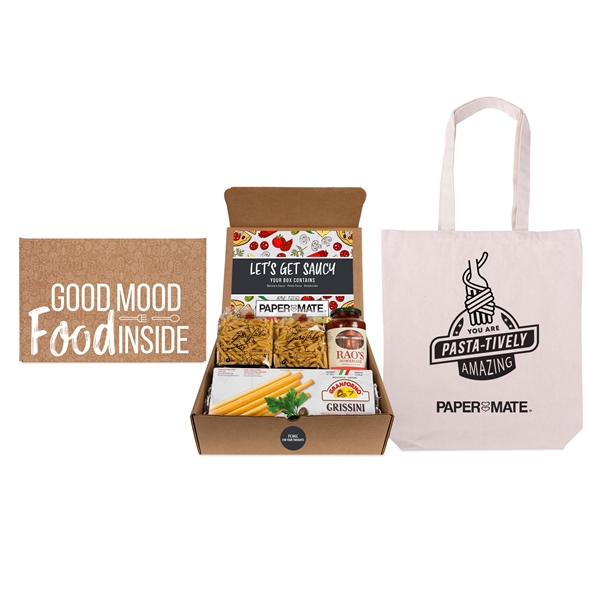 Curated by our in-house gourmet team, these specialty gift boxes are sure to please. Customize the inside label for a perfect presentation that accompanies the selected food items. Pair with a matching tote bag for a special, added branding opportunity. This kit is available to dropship or ship in bulk!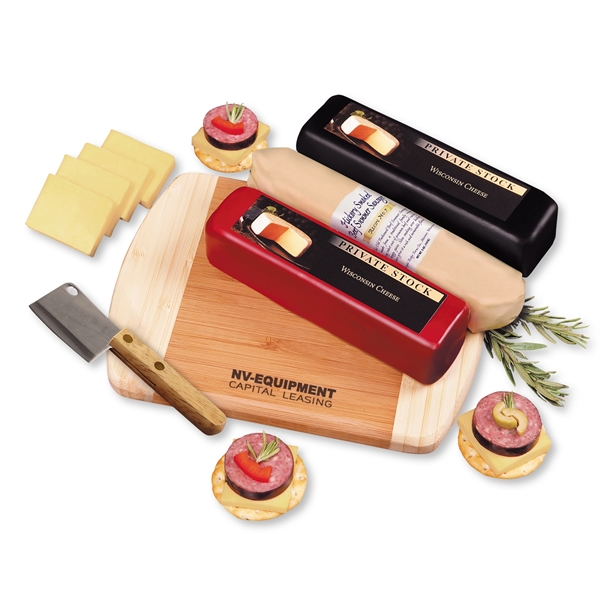 You can bet on this heavy-duty, sustainable Bamboo chopping board, firebranded with your imprint, will be used and appreciated daily by its recipient. This gift set includes seven-ounce blocks of shelf-stable Wisconsin cheeses, and a five-ounce stick of tangy Beef Summer Sausage. The cleaver is included too to create the perfect charcuterie board.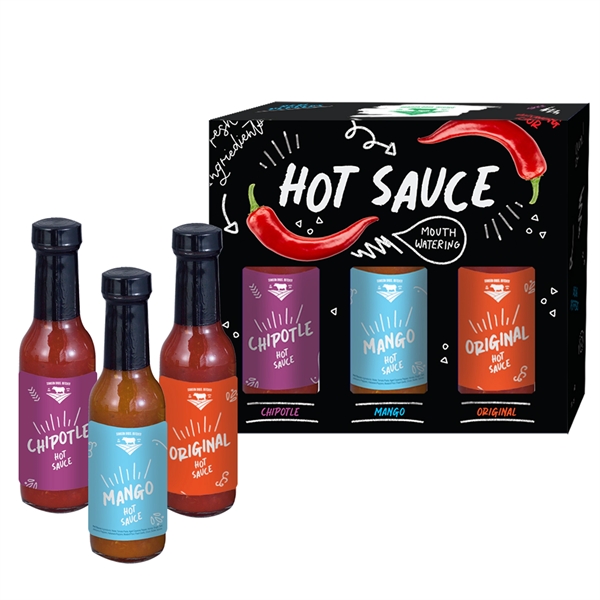 Feeling hot (hot, hot)? Fire up your next gifting campaign with this set of three gourmet hot sauces. Flavors include Original, Chipotle, and Mango in five ounce jars. Add a logo to our stock design box and bottle wraps shown, or create your own custom artwork.
Candy and Sweets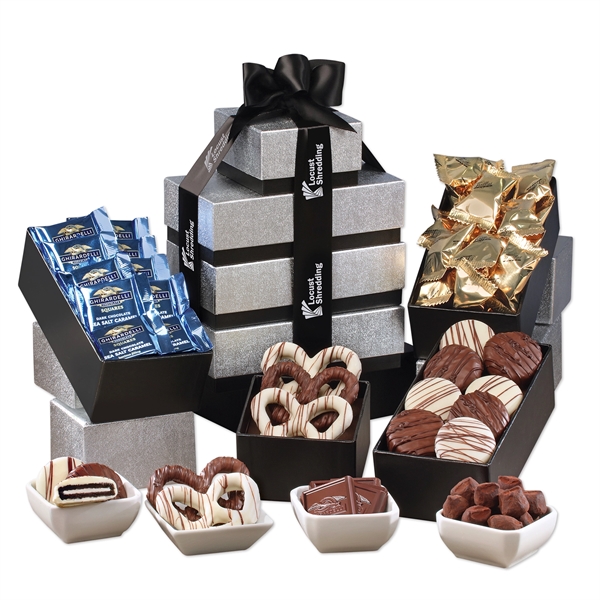 Each decadent chocolate in this generous tower is guaranteed to delight recipients and comes individually wrapped for extra convenience. Great for sharing-if they don't choose to keep it all for themselves! With so much variety there will be something sure to please everyone in the office.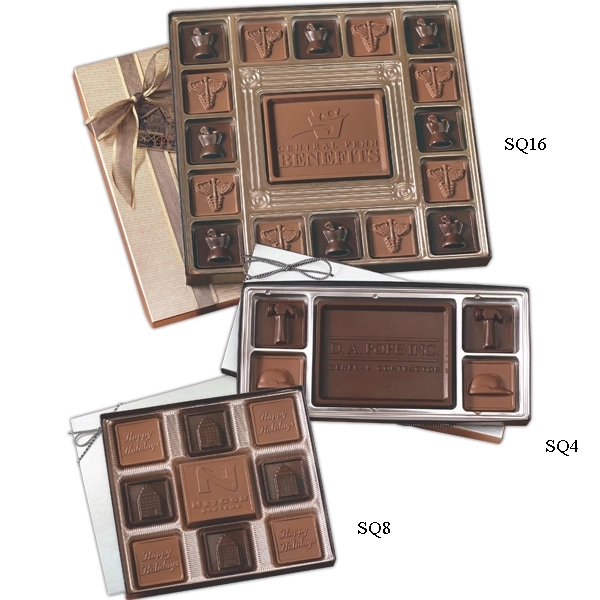 In a gold or silver gift box sits a creamy chocolate centerpiece (in milk or dark flavors) surrounded by 6 1/2 oz. of custom themed square-shaped chocolates. Emblazon this container with your custom logo, our stock designs, or a combination of both. It always comes wrapped in a coordinating stretch bow for the perfect presentation. No matter who receives this, you can rest assured they they'll love it.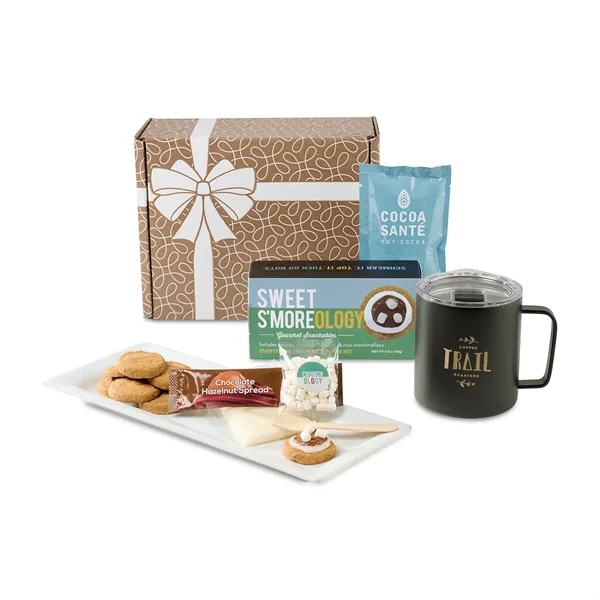 Whether intended as a unique Holiday gift, client or employee thank-you gift, or a special recognition recipients will appreciate this unique and delicious treat, along with a Miir® camp cup keepsake. Everything is in the kit, just assemble and enjoy with NO baking. INCLUDES: Sweet S'moreology Dessert Kit, Buttery Graham Crackers, Creamy Vanilla Schmear, Chocolate Hazelnut Schmear, Crunchology Marshmallow Topping, mini spreader, & Cocoa Sante Nor'Easter Gourmet Hot Chocolate.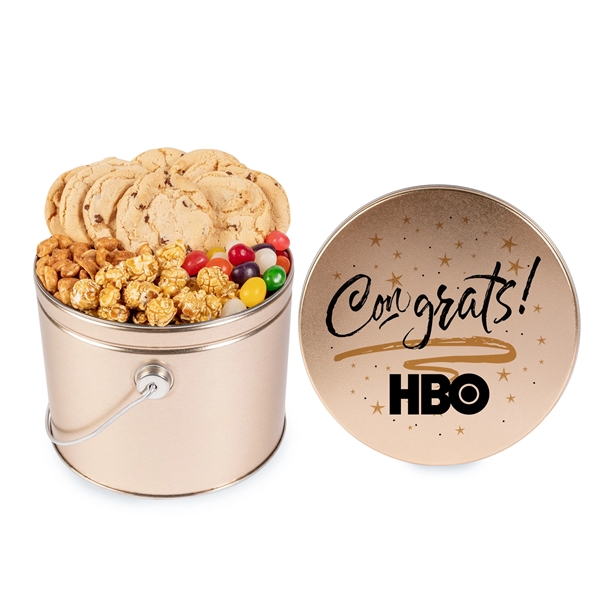 Take delight in this selection of sweet favorites, packaged inside a beautifully branded pail. A perfect combination for a great year-round gift, each set includes a variety of treats: Chocolate Chip Cookies (18), Honey Roasted Peanuts (6 oz.), Caramel Popcorn (2 oz.), Jellybeans (6 oz.)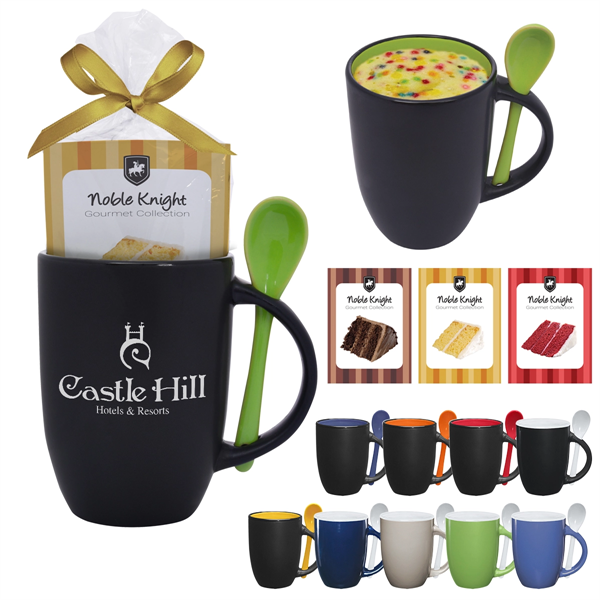 Bake up a tasty promotion with help from this spooner mug with mug cake! Choose from chocolate, yellow, or red velvet cake to accompany this retro granite mug. The set includes a rainbow sprinkle topper with mixer packet instructions included and it meets FDA requirements. Add a company name and logo before handing it out at grand openings, tradeshows, food demonstrations, and other advertising opportunities to leave a lasting impact!
Pet Food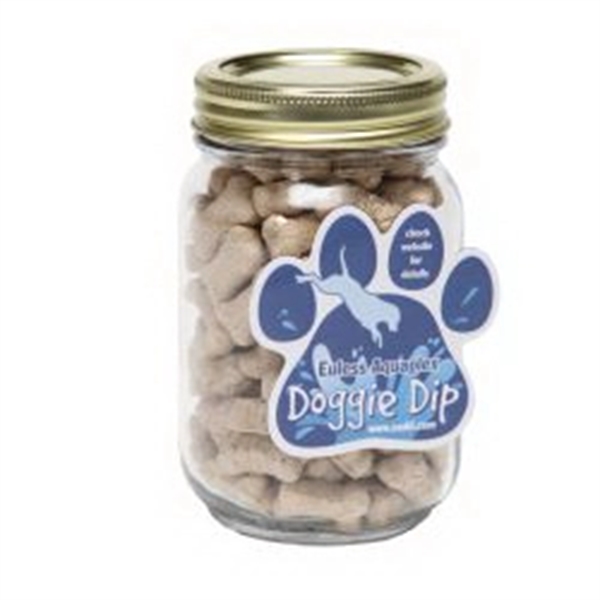 These mini dog bones have been a favorite of all pups since 1908! Each treat offers 12 vitamins and minerals and only 5 calories, so you can feel good while indulging your pet. Every glass pint jar includes 8 ounces of treats and an attached four color process paw shaped magnet. These treats are intended to be offered as an occasional snack or reward as part of a healthy diet.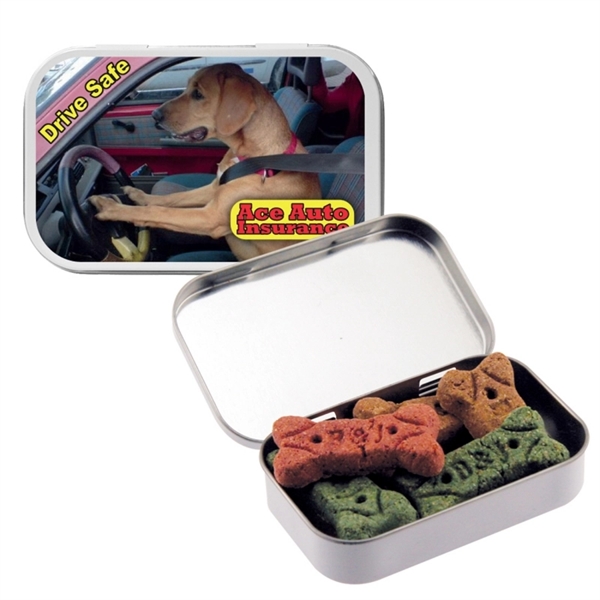 Reward your best four-legged friend with some treats in return for the unconditional love they provide us! These dog bone treats come in a large silver or white tin, and can be customized with a brand name, logo, or message.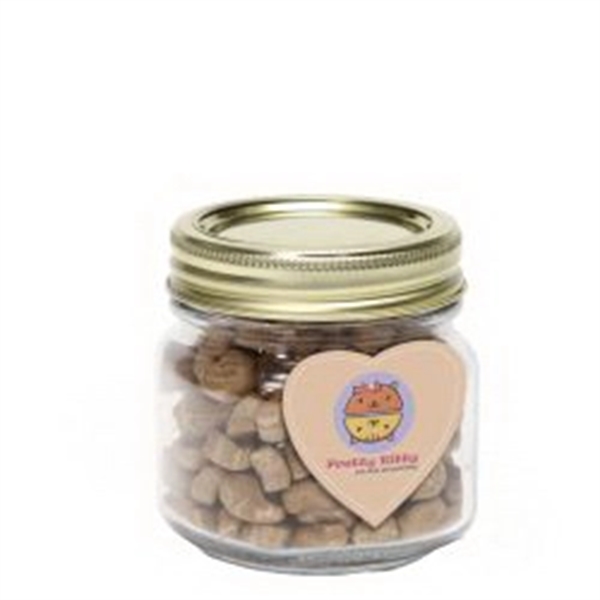 Made with real meat or fish, your cat will find these treats irresistible. Every glass half pint jar includes 5 ounces of treats and an attached four color process heart shaped magnet. Who says cats are aloof? You won't, after your kitty discovers you have these treats!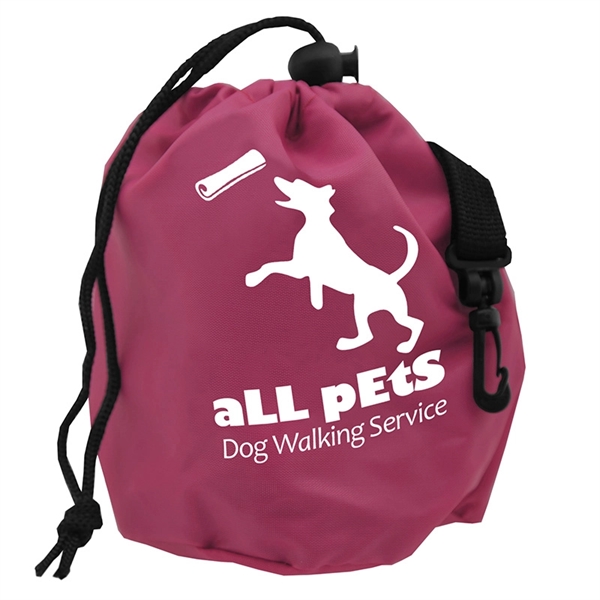 This brightly colored and polyester lined drawstring bag is compact and excellent for trade show giveaways. It comes with plastic clasp clips to adhere to a leash or backpack. It's a perfect branding opportunity that doubles t hold dog treats & other essentials on your walk.
Drinks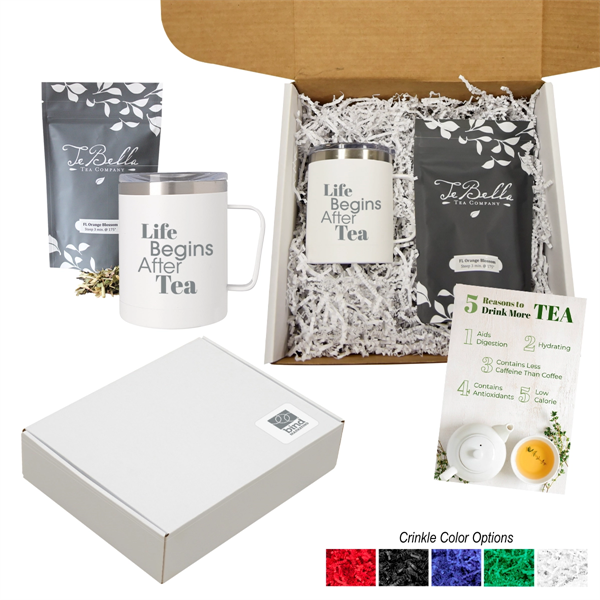 Give your clients something they'll enjoy with this TeBella gift set! Perfect for offering to anyone who wants the comforting feeling and aroma to envelop them when they take a sip, this gift set includes a tumbler mug, bag of tea, and instructional card in a customized box set with colorful crinkle paper.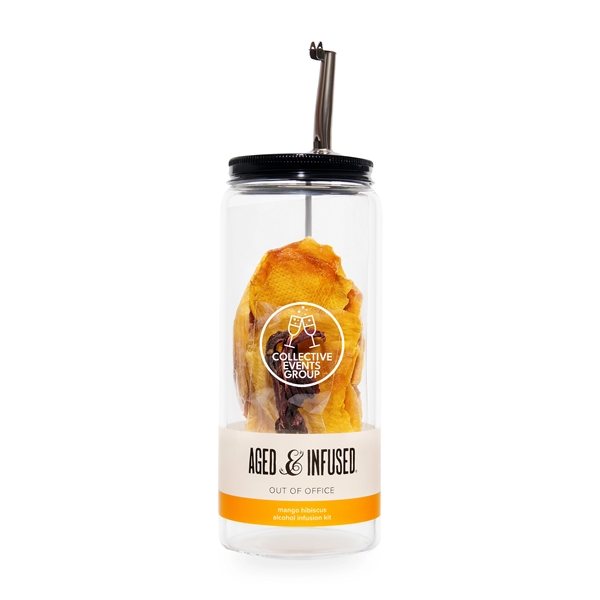 OOO. Those three happy letters stacked side-by-side signal freedom and sweet, sweet relief. This tangy, floral infusion will transport you to your happy place. Whether that's the vibrant SoCal coast or, simply, your sacred sunny spot in your backyard, you're out of office, baby. This signature kit includes a 16 oz. glass jar with custom filtering pour spout, pre-measured ingredients, infusion instructions and cocktail recipes. Recommended spirits (not included): tequila, rum or vodka.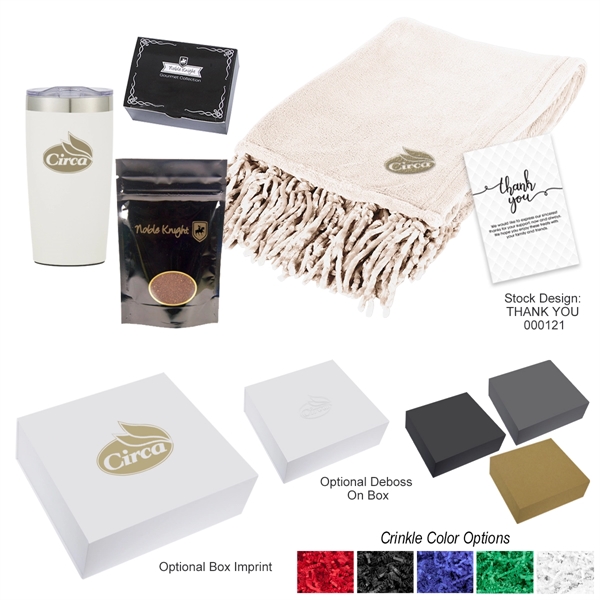 Your clients will love walking away with this cozy comfort coffee kit! It has everything needed to enjoy a calming time inside on a fall or winter night. This is a great item to give out as a raffle prize or to special customers whom you want to thank for their patronage. Add your company name or logo for maximum visibility and a great impact.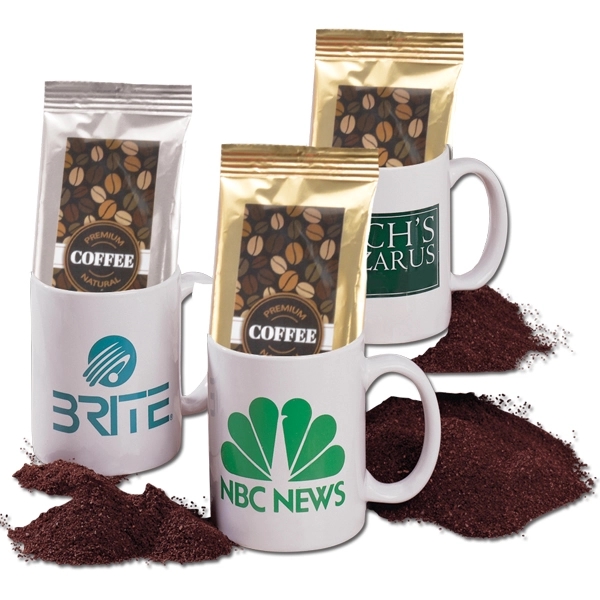 A fresh start to the morning, this ideal pairing would make a great addition to a holiday gift basket! Tucked within an 11 oz. mug is a packet of kosher, gourmet coffee for your enjoyment. Available in 6 beloved flavors, one pack conveniently makes one pot of coffee. These personalized gifts can be imprinted with a name, logo, or message for further customization.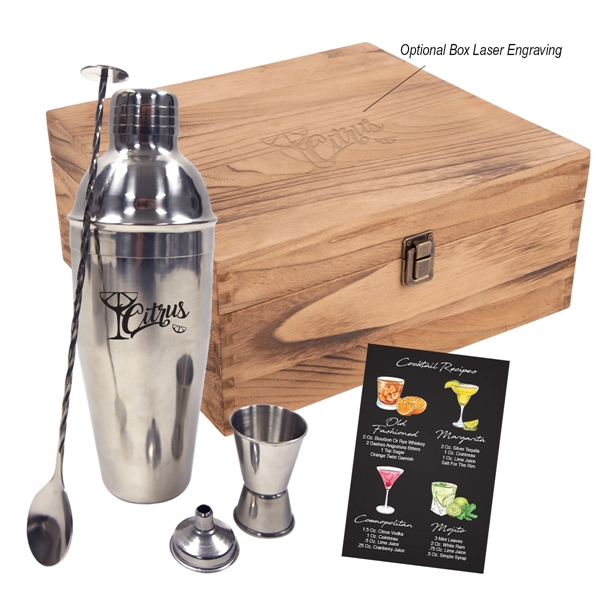 Put your brand ahead of competitors with this stainless steel cocktail gift set! It has everything needed to create and mix a delicious drink in the comfort of your own home. This is great to give to those who like to entertain guests with their mixology skills but can also be used at a bar or restaurant. Add a company name or logo for maximum visibility.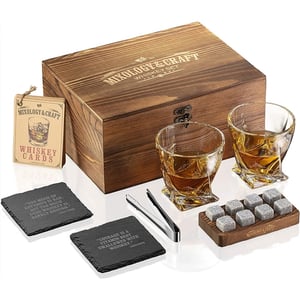 This elegant whiskey set is anything but standard. Made for the long haul, all pieces are built from high-grade stainless steel, crystal, and granite. A logo can be custom pad printed or laser engraved on each item including the wooden box. The set includes: wooden box, 2x 10oz whiskey glasses, ice tongs, 8x granite whiskey cubes, wooden tray, 2x slate coasters, and whiskey cards.
Get More Holiday Gifting Ideas
Holiday Catalogs Now Launched!
Holiday 2023 is here, and so are our new catalogs. Get inspired for this season and beyond with curated, thoughtfully-designed holiday promo items that will bring cheer.
---
QRG is a customer-driven, single-source commercial printer, branded merchandise agency, and direct marketing firm tailored to meet your business goals. Our corporate identity solutions create deep connections with a lasting impact on your audience. Learn more about how it works and check out our website for more information.